News article from Corvallis Gazette Times 8/29/17 by 
The band director at South Albany High School and Calapooia Middle School in Albany, as well as an adjunct music instructor at Oregon State University, Isaac Andrew believes in an important message he tries to get across to his students.
"You only need a few people to make your own little group and you can play all kinds of music," Andrew said. "And you can do it as long as you're alive. You just have your brain and your wits about you and your technical facility, but it's not like you're trying to run a marathon when you're 75. Some people can do that, not a lot can, but 75-year-olds can still play their horn."
Members of the Chintimini Brass appear to have quite a few years before they hit the the golden years but don't be surprised if they're all still performing. Each seems to possess a special connection to music.
As Andrew said, "It's just really exciting because it's something I really love and I can share it with people."
The new ensemble that organized a little over a year ago, Chintimini Brass was the brainchild of Andrew and features members from around the mid-valley, including two from Philomath — Mark Rasmussen and David Campbell.
"My sole goal was to get absolutely the best players I could get in the mid-valley here and where we could get together on a regular basis and gig and make some money, if we can, but at least play high-level literature really well," Andrew said.
Andrew met Rasmussen through Gracelands Music in Corvallis when he was doing repair work.
"We're trying to build it with five guys that are busy," Rasmussen said, referring to the five brass quintet members, but the group also includes a sixth, a drummer. "Yes, we have intentions but we haven't really driven it much yet. Really, the market for this kind of thing is corporate, private and weddings."
The group features Andrew, of Albany, on tuba; Campbell and Rasmussen, of Philomath, both on trumpets; David Sorenson, of Corvallis, on French horn; Brian Wilson, of Monmouth, on trombone; and Dennis Bierman, of Salem, on drums.
"We found the best brass musicians in the Willamette Valley and so we get together and make some chamber music," Campbell said. "Mark and I are relatively both new to town and so we needed to find our musical roots locally and it was a great opportunity to get a small group that can go do community events."
Campbell has a vast background playing professionally. He first started playing at age 8 (now he's 42) and it was his career for about 20 years. His past includes playing in the Disneyland Band, with the Orange County Philharmonic Symphony, as a leader with the Knotts Berry Farm theme park band and as principal trumpet with several other groups, including the Northridge (California) Opera.
Two years ago, he moved from the Napa Valley area to Philomath and now farms. He met Rasmussen, who moved to Oregon from Colorado a couple of years ago, through a musical at Corvallis High School.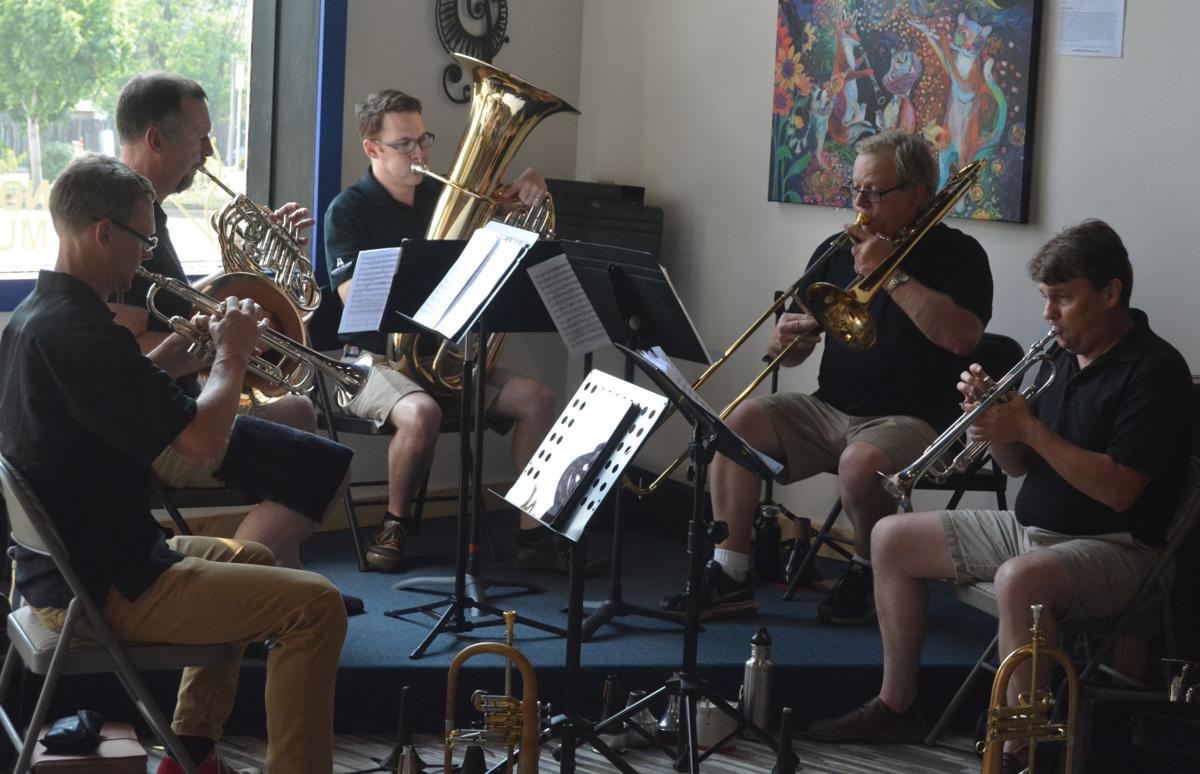 "The first time we played was at David Campbell's house, a party we put together just to do it," Rasmussen said while taking a timeout from his work at Windsmith Music in Philomath.
Appearances followed with the first public performance occurring during the 2016 Philomath Uncorked wine walk at Eats & Treats. The group has performed at the past two wine walks and in the city's summer music series.
"I put together a rehearsal just to read through literature we all had and right from the get-go, we jelled pretty well and we all like each other," Andrew said, thinking back to when the group first got together.
The last part of that comment tends to be a very important factor.
"You have to like each other if you're going to work in a small group because you're pretty vulnerable when you're playing music," Andrew said. "If you're going to take critique from each other and things like that, you have to be able to work well together."
In a bit of unique twist, the band members get together to rehearse at a public venue, which could be right in Windsmith Music. They also get together at farmers' markets and in parks, most often in Corvallis and Philomath.
"We certainly enjoy playing weekly and usually when the weather is nice … we try to do most of our rehearsals out in the parks and people could come by if they wanted to," Rasmussen said. "We would like to do it more, but it's not going to be a day job for any of us, so it needs to be enjoyable and can't take time away from our lives too much."
Both Campbell and Rasmussen said the public rehearsals have an impact on how they approach their playing.
"It helps us stay on top of our game. It makes our rehearsals a little more meaningful and it's a good way to share our music and see what leads to other opportunities," Campbell said.
"We're never expecting a huge crowd but if we're going to rehearse anyway, we'd just as soon make it a public performance rehearsal," Rasmussen said. "You rehearse differently if you do it in front of the public … it's just a nice way of doing it."
For more information on the ensemble, go online to www.ChintminiBrass.com or www.facebook.com/chintiminibrass, or call Campbell at 707-373-9966.